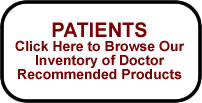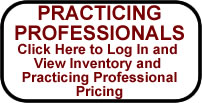 Click below to browse our
extensive product inventory
ANKLE & FOOT SUPPORTS
Help mend fresh injuries and avoid repeats

.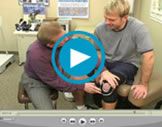 Anyone who's ever "turned" an ankle - let alone torn a ligament or undergone surgery - can attest to the challenge of getting back to normal activity and regaining a feeling of confidence in avoiding re-injury. If you've done it once, there's a risk you may do it again.

But the chances of re-injury are a lot less when you protect your ankle as you heal (and follow doctor's orders, of course), and wear a wrap, brace or some form of ankle support when you resume activity. Explore our selection and talk with your doctor about what best suits your situation. Discover a new way of thinking about braces and a foolproof way to choose the brace that's right for you.
Practicing Professionals - Login/Register for Pricing
Image
Description
Lace-Up Supports

Adjustable protection lets you work and play.

Because once an ankle's been injured it's likely to happen again, doctors usually recommend wearing ankle supports during high activity levels or intense sports - and sometimes for work and leisure. It just makes sense to be protect yourself.

Core's Lace-Up Ankle supports offer maximum adjustability, to provide just the right level of support while you engage in a wide range of activity levels. Each has its distinct features: the regular Lace-Up, with spiral stays; the Deluxe, with removable stays and a patented, offset lacing system, plus vinyl side supports. And the PowerWrap® which offers maximum support and customization. All sized from XS to XL so you can truly get the right fit and get back out there to your "regular" life.




04-6350-6351 - PowerWrap Ankle Brace Custom fit every time.

Easy and comfortable to wear.
Great for sports, home, work, and leisure.
Available in black or white.



04-6300 - Lace-Up Ankle Support - Black
04-6310 - Lace-Up Ankle Support - White


Ideal for sports or high activity.
Features triple-layered fabric, spiral stays, lined tongue and side panels.

Neoprene Support
04-6309 - Fits-All Neoprene Ankle Support


Ideal for sprains, strains, and soft-tissue injuries.
Neoprene construction.
Ideal for many types of activities.

Elastic Supports

Control swelling as you receive reassuring support.

If you suffer from stiff, swollen and painful ankles or have recently injured (or re-injured) your ankle, you may be wishing you felt more steady on your feet as you get back "out there." Core makes two elastic ankle supports that deliver the benefits of compression... no matter what shoes you wear. The latex-free Elastic Pull-On controls swelling, gives a feeling of ankle strength via dual-tension elastic and figure-eight construction. Our Lightweight Elastic Support - for use during or after sports - and less strenuous activities - features cool, ventilated elastic and front lace-up construction to help control swelling; spiral stays give added support plus adjustability. Now you can wear your dancing shoes and take care of your ankle, too!

04-6321 - Elastic Pull-On Ankle Brace


Aids stiff, swollen and painful ankles and arches.
Ideal for sports, work, home, and leisure.
Dual-tension elastic.
Provides compression.

 
04-6301 - Lightweight Elastic Ankle Support

Fits comfortably in street or dress shoes.
Helps control swelling.
Cool, ventilated elastic construction.
Lace-up front and spiral stays add support.

04-1177 -NelMed Ankle Support

Helps protect the ankle from post trauma injury
Figure eight design wraps under the arch of the foot
and around the ankle.
Adjustable hook and loop closure
One size fits all.

Specialty Ankle Supports
04-6370 - AirLite Ankle Brace



Rigid, contoured shells and air-adjustable bladders.
Resists inversion better than taping.
Medical grade.
Ideal for athletic performance.

50-2775 - T1 Trainer Ankle Brace





The "Trainer" model with the Neoprene padding system, two straps and a bilateral hinge provides unequaled ankle protection for chronic instability, or preventative use when increased activity levels are presented in rehabilitation.

50-2776 - Active Ankle - T2



The "T2" features a durable, quick-fitting single strap system that is adjustable for both high- and low-top shoes. That, combined with feather-light E.V.A. padding that hugs every contour of the ankle, offers a sleeker, less bulky brace while still offering maximum performance and protection.

Heel Lift

Great for leg length inequalities, heel spurs, and other clinical conditions.

04-575 - Adjustable Heel Lift


Great for leg length inequalities, heel spurs, and other clinical conditions.
Adjustable height reduces inventory.
Durable.
Great for sports shoes and dress shoes.

Viscolas Heel Lift


| | |
| --- | --- |
| 4985 | 1/8" (one) - Small |
| 4986 | 1/8" (one) - Large |
| 4997 | 1/4" (one) - Small |
| 4998 | 1/4" (one) - Large |

This lift can be put in the shoe or on the underside of the full insole to help level the alignment of the hip and compensate for short-leg deformity.
Available in 1/8 and 1/4 thickness
Small and Large
Practicing Professionals - Login/Register for Pricing
Denis Behm Supply, Inc.
11407 Landan Lane
Cincinnati, OH 45246

Toll Free (800) 733-3106
Local (513) 771-8900