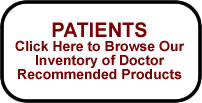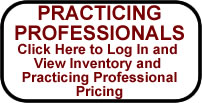 Click below to browse our
extensive product inventory
SPECIALTY ADJUSTING TABLES
Denis Behm Supply, Inc. offers tables from the top manufacturers that are designed to meet the physical needs of the clinician while providing patients with the highest level of comfort as they move from position to position. We will look forward to talking with you directly to insure you are getting the proper table with the options that are best suited for you. That is why it is important to talk to someone who knows what the optional features can do for you, not just how much they cost!
Practicing Professionals - Login/Register for Pricing
Image
Description
Specialty Adjusting Tables




Upper Cervical Tables

Lloyd's Upper Cervical Type Tables are ideal for use by upper cervical practitioners by changing the specifics of the headpiece. Can also be used for examining and therapy.





Nicholas Side Posture

The headpiece can be adjusted with convenient hand wheel for side posture type of cervical toggle adjustments




Lloyd's Knee Chest Table

The headpiece adjusts to a height four inches lower than the competitive tables. Kneeling pad has special hardened foam cushion for patient comfort and effective adjustment..

Barrington 801 Adjustable Headrest Lounge

The 801 Lounge is a combination examination and recovery lounge with six-position headrest.

Barrington 800 Recovery Lounge

800 Lounge - a deluxe recovery lounge with built-in headrest. This versatile lounge provides quality, stability and beauty with it's no-sag springs and torsion bar bracing, polyurethane foam padding and 1" X 2" X 11" powder coated legs.

Barrington 716 Examination & Therapy Table

This versatile table provides quality, stability and beauty with its rugged design.
Practicing Professionals - Login/Register for Pricing
Denis Behm Supply, Inc.
11407 Landan Lane
Cincinnati, OH 45246

Toll Free (800) 733-3106
Local (513) 771-8900